Metal Sheet And Tube Fiber Laser Cutting Machine From China
Product Detail
Product Tags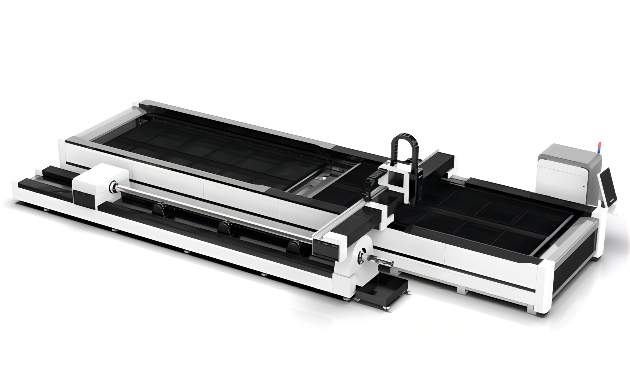 Applicable Materials Of Metal Sheet And Tube Fiber Laser Cutting Machine
Metal sheet and tube fiber laser cutting machine can cut stainless steel, carbon steel, mild steel, alloy steel, galvanized steel, silicon steel, spring steel, titanium sheet, galvanized sheet, iron sheet, inox sheet, aluminum, copper, brass and other metal sheet, metal plate, metal tube, metal pipe.
Applicable Industries Of Metal Sheet And Tube Fiber Laser Cutting Machine
Metal sheet and tube fiber laser cutting machine is used for industry of machinery parts, electrics, metal tube or pipe fabrication, electrical cabinet, kitchenware, elevator panel, hardware tools, metal enclosure, advertising sign letters, lighting lamps, metal crafts, decoration, jewelry, medical instruments, automotive parts, furniture and other metal cutting fields.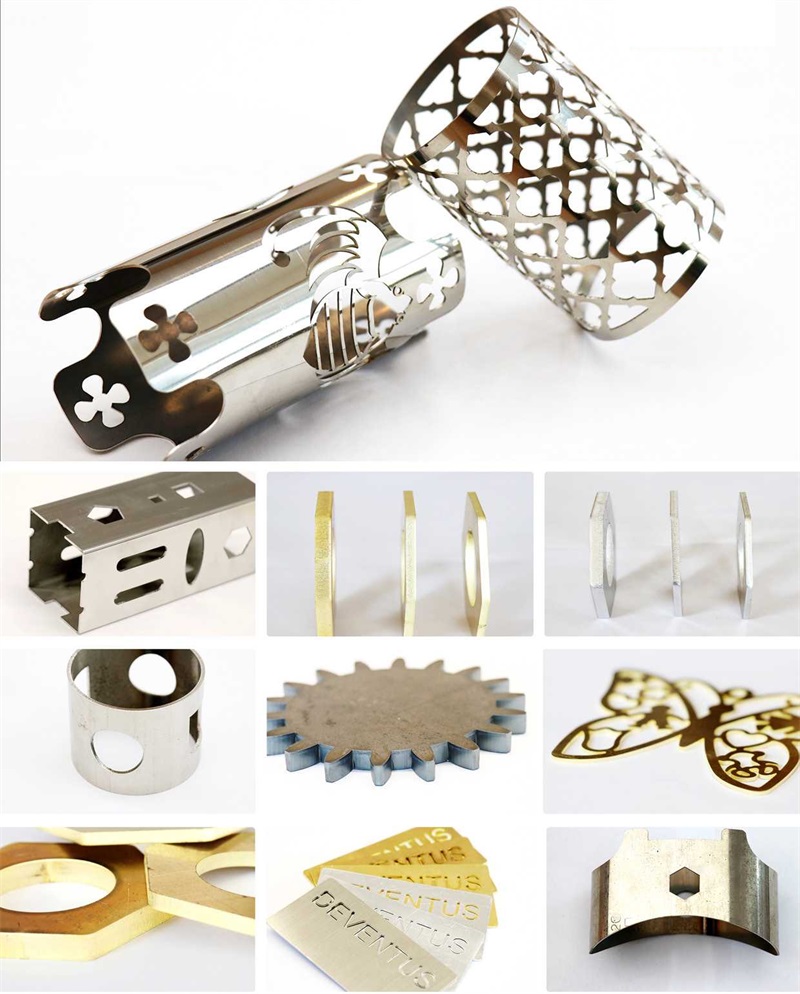 * Under table extraction fan.
*Positioning and re-positioning accuracy is 0.02mm .
* laser source in 1KW, 1.5KW, 2KW, 3KW, 4KW, 6KW, 8KW, 10KW, 12KW – Lifespan 100,000 hours.
* Precision Switzerland Raytools laser head , NO.1 brand on the world.
* Ball screw drive guide rail system from Taiwan.
* Japanese Fuji servo motor driver.
* Taiwan Hiwin guide rails.
* German Schneider Electronics Parts.
* CypCut software including nesting capability – stable and efficient productivity.
* Water chiller and extraction system included.
* Non - destructive pipe clamping , fast automatic centering and clamping pipe, performance is more stable.
| | |
| --- | --- |
| Model | KF -T Series |
| Wavelength | 1070nm |
| Plate Cutting Area | 3000*1500mm / 4000*2000mm / 6000*2000mm/ 6000*2500mm |
| Max Tube Cutting Diameter | 350mm |
|           Tube Cutting Length | 3m / 6m |
| Laser Power | 1000W / 1500W / 2000W / 3000W / 4000W / 6000W |
| X/Y-axis Positioning Accuracy | 0.03mm |
| X/Y-axis Repositioning Accuracy | 0.02mm |
| Max. Acceleration | 1.5G |
| Max. linkage speed | 140m/min |
Cutting Parameters

1000W

1500W

2000W

3000W

4000W

Material

Thickness

speed m/min

speed m/min

speed m/min

speed m/min

speed m/min

Carbon steel

1

8.0--10

15--26

24--32

30--40

33--43

2

4.0--6.5

4.5--6.5

4.7--6.5

4.8--7.5

15--25

3

2.4--3.0

2.6--4.0

3.0--4.8

3.3--5.0

7.0--12

4

2.0--2.4

2.5--3.0

2.8--3.5

3.0--4.2

3.0--4.0

5

1.5--2.0

2.0--2.5

2.2--3.0

2.6--3.5

2.7--3.6

6

1.4--1.6

1.6--2.2

1.8--2.6

2.3--3.2

2.5--3.4

8

0.8--1.2

1.0--1.4

1.2--1.8

1.8--2.6

2.0--3.0

10

0.6--1.0

0.8--1.1

1.1--1.3

1.2--2.0

1.5--2.4

12

0.5--0.8

0.7--1.0

0.9--1.2

1.0--1.6

1.2--1.8

14

 

0.5--0.7

0.8--1.0

0.9--1.4

0.9--1.2

16

 

 

0.6-0.8

0.7--1.0

0.8--1.0

18

 

 

0.5--0.7

0.6--0.8

0.6--0.9

20

 

 

 

0.5--0.8

0.5--0.8

22

 

 

 

0.3--0.7

0.4--0.8

Stainless steel

1

18--25

20--27

24--50

30--35

32--45

2

5--7.5

8.0--12

9.0--15

13--21

16--28

3

1.8--2.5

3.0--5.0

4.8--7.5

6.0--10

7.0--15

4

1.2--1.3

1.5--2.4

3.2--4.5

4.0--6.0

5.0--8.0

5

0.6--0.7

0.7--1.3

2.0-2.8

3.0--5.0

3.5--5.0

6

 

0.7--1.0

1.2-2.0

2.0--4.0

2.5--4.5

8

 

 

0.7-1.0

1.5--2.0

1.2--2.0

10

 

 

 

0.6--0.8

0.8--1.2

12

 

 

 

0.4--0.6

0.5--0.8

14

 

 

 

 

0.4--0.6

Aluminum

1

6.0--10

10--20

20--30

25--38

35--45

2

2.8--3.6

5.0--7.0

10--15

10--18

13--24

3

0.7--1.5

2.0--4.0

5.0--7.0

6.5--8.0

7.0--13

4

 

1.0--1.5

3.5--5.0

3.5--5.0

4.0--5.5

5

 

0.7--1.0

1.8--2.5

2.5--3.5

3.0--4.5

6

 

 

1.0--1.5

1.5--2.5

2.0--3.5

8

 

 

0.6--0.8

0.7--1.0

0.9--1.6

10

 

 

 

0.4--0.7

0.6--1.2

12

 

 

 

0.3-0.45

0.4--0.6

16

 

 

 

 

0.3--0.4

Brass

1

6.0--10

8.0--13

12--18

20--35

25--35

2

2.8--3.6

3.0--4.5

6.0--8.5

6.0--10

8.0--12

3

0.5--1.0

1.5--2.5

2.5--4.0

4.0--6.0

5.0--8.0

4

 

1.0--1.6

1.5--2.0

3.0-5.0

3.2--5.5

5

 

0.5--0.7

0.9--1.2

1.5--2.0

2.0--3.0

6

 

 

0.4--0.9

1.0--1.8

1.4--2.0

8

 

 

 

0.5--0.7

0.7--1.2

10

 

 

 

 

0.2--0.5
---
---