Open Type Metal Sheet Fiber Laser Cutting Machine
Product Detail
Product Tags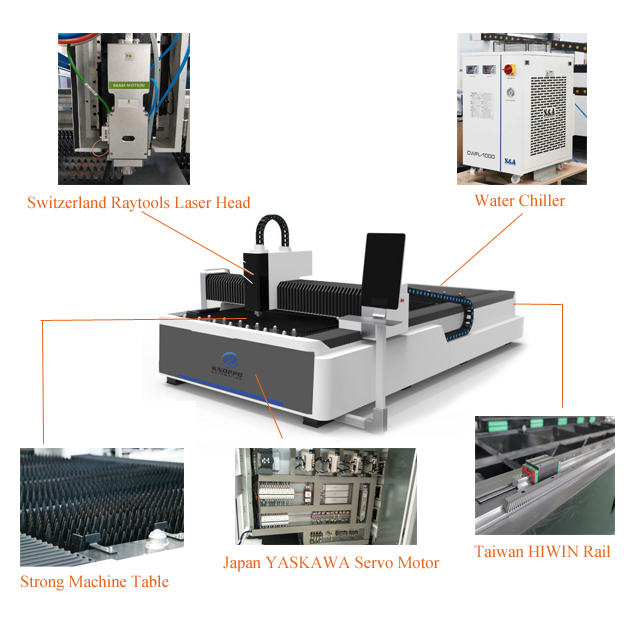 Applicable Materials Of Fiber Laser Cutting Machine
Cutting stainless steel, carbon steel, mild steel, alloy steel, galvanized steel, silicon steel, spring steel, titanium sheet, galvanized sheet, iron sheet, inox sheet, aluminum, copper, brass and other metal sheet, metal plate, metal pipe and tube, etc.
Applicable Industries Of Fiber Laser Cutting Machine
Machinery parts, electrics, sheet metal fabrication, electrical cabinet, kitchenware, elevator panel, hardware tools, metal enclosure, advertising sign letters, lighting lamps, metal crafts, decoration, jewelry, medical instruments, automotive parts and other metal cutting fields.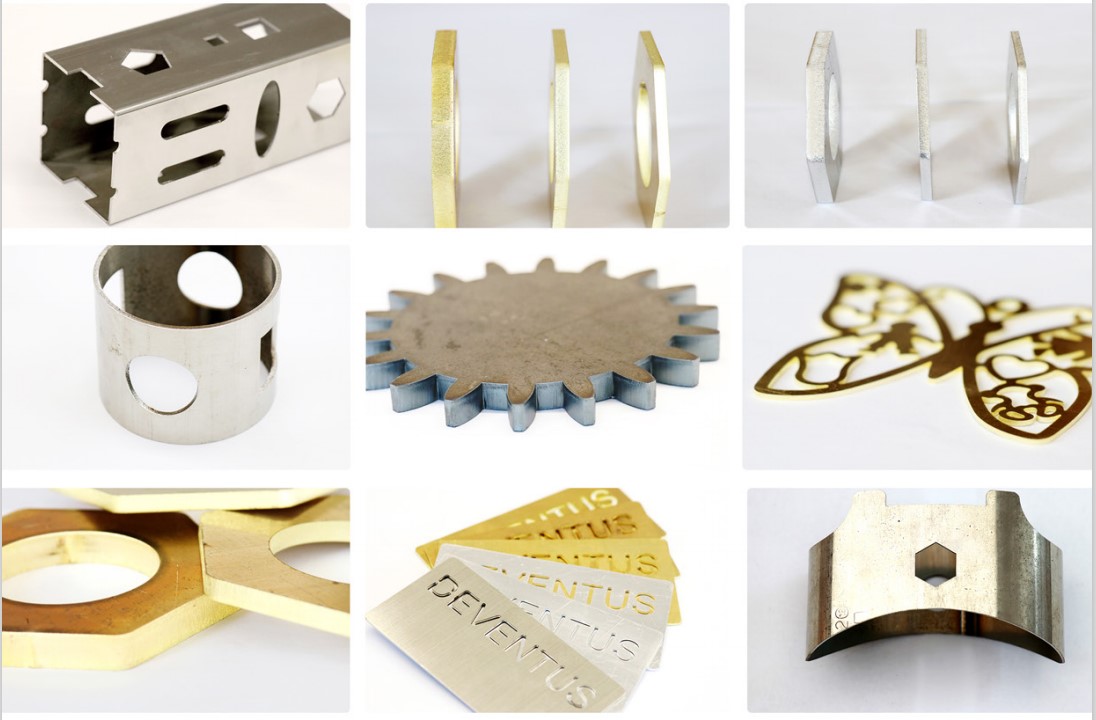 Stronger Machine Body
The metal body on this cutter has undergone a 600°C heat treatment, and is cooled inside the furnace for 24 hours. After this is complete, it is processed using a plano-milling machine and welded using carbon dioxide. This ensures it has a high strength and a 20 year service life.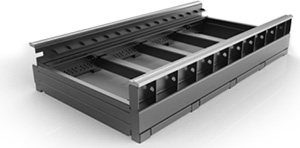 The Third Generation Cast Aluminum Beam
It is manufactured with aerospace standards and formed by 4300 tons press extrusion molding. After aging treatment, its strength can reach 6061 T6 which is the strongest strength of all gantries. Aviation aluminum has many advantages, such as good toughness, light weight, corrosion resistance, anti-oxidation, low density, and greatly increase the processing speed.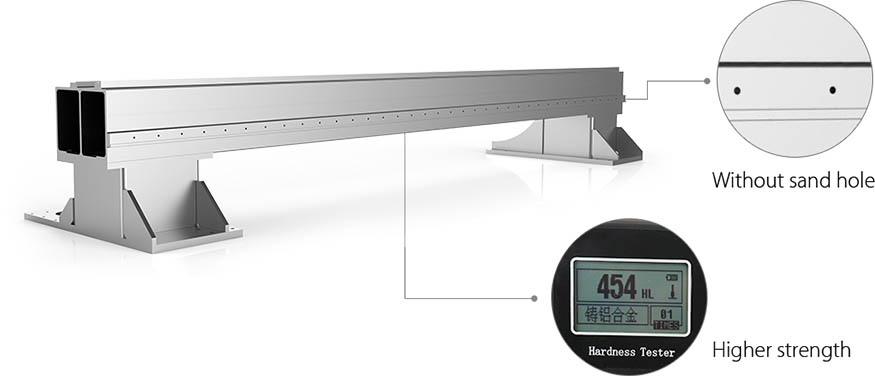 Switzerland Raytools Laser Head
Applicable to various focal lengths, which are controlled by machine tool control system. Focal point will be automatically adjusted in cutting process to achieve the best cutting effect of different thicknesses sheets metal. Increasing perforation focus length, separately setting perforation focal length and cutting focal length, improve cutting accuracy.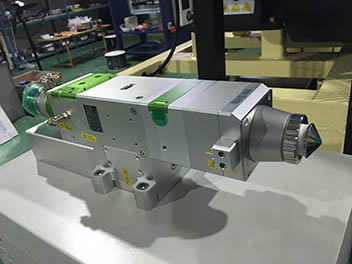 CYPCUT Control System
CYPCUT Control system can realize intelligent layout of graphics cutting and support the import of multiple graphics, optimizing cutting orders automatically, searching edges smartly and automatic positioning. Control system adopts the best logic programming and software interaction, provides stunning operation experience, effectively enhancing the utilization of sheet metal and reducing waste. Simple and fast operation system, efficient and accurate cutting instructions, effectively improve the user experience.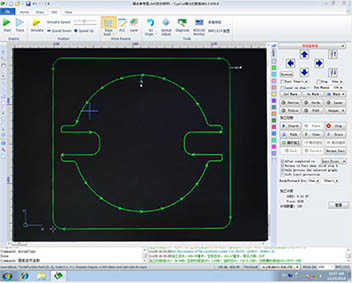 BCS100 Capacitive Height Controller
BCS100 capacitive height controller (hereinafter referred to as BCS100) is a high-performance control device which usedclosed-loop control method. BCS100 also provides a unique Ethernet communication (TCP / IP protocol) interface, it can easily achieve many functions with CypCut software, such as automatic tracking of height, segmented piercing, progressive piercing, edge seek, leapfrog, arbitrary setting of lift-up height of cutting head.Its response rate is also improved greatly. Especially in servo control aspects, its running speed and accuracy should obviously be better than other similar products, owing to dual closed-loop algorithm of speed and position. Support alarm while hitting the board and beyond the edge. Support edge detection and automatic inspection.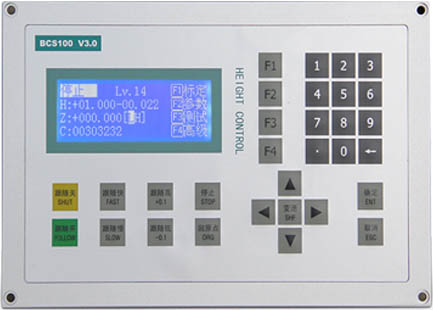 | | |
| --- | --- |
| Model | KF Series |
| Wavelength | 1070nm |
| Sheet Cutting Area | 3000*1500mm / 4000*2000mm / 6000*2000mm/ 6000*2500mm |
| Laser Power | 1000W / 1500W / 2000W / 3000W / 4000W |
| X/Y-axis Positioning Accuracy | 0.03mm |
| X/Y-axis Repositioning Accuracy | 0.02mm |
| Max. Acceleration | 1.5G |
| Max. linkage speed | 140m/min |
Cutting Parameters

1000W

1500W

2000W

3000W

4000W

Material

Thickness

speed m/min

speed m/min

speed m/min

speed m/min

speed m/min

Carbon steel

1

8.0--10

15--26

24--32

30--40

33--43

2

4.0--6.5

4.5--6.5

4.7--6.5

4.8--7.5

15--25

3

2.4--3.0

2.6--4.0

3.0--4.8

3.3--5.0

7.0--12

4

2.0--2.4

2.5--3.0

2.8--3.5

3.0--4.2

3.0--4.0

5

1.5--2.0

2.0--2.5

2.2--3.0

2.6--3.5

2.7--3.6

6

1.4--1.6

1.6--2.2

1.8--2.6

2.3--3.2

2.5--3.4

8

0.8--1.2

1.0--1.4

1.2--1.8

1.8--2.6

2.0--3.0

10

0.6--1.0

0.8--1.1

1.1--1.3

1.2--2.0

1.5--2.4

12

0.5--0.8

0.7--1.0

0.9--1.2

1.0--1.6

1.2--1.8

14

 

0.5--0.7

0.8--1.0

0.9--1.4

0.9--1.2

16

 

 

0.6-0.8

0.7--1.0

0.8--1.0

18

 

 

0.5--0.7

0.6--0.8

0.6--0.9

20

 

 

 

0.5--0.8

0.5--0.8

22

 

 

 

0.3--0.7

0.4--0.8

Stainless steel

1

18--25

20--27

24--50

30--35

32--45

2

5--7.5

8.0--12

9.0--15

13--21

16--28

3

1.8--2.5

3.0--5.0

4.8--7.5

6.0--10

7.0--15

4

1.2--1.3

1.5--2.4

3.2--4.5

4.0--6.0

5.0--8.0

5

0.6--0.7

0.7--1.3

2.0-2.8

3.0--5.0

3.5--5.0

6

 

0.7--1.0

1.2-2.0

2.0--4.0

2.5--4.5

8

 

 

0.7-1.0

1.5--2.0

1.2--2.0

10

 

 

 

0.6--0.8

0.8--1.2

12

 

 

 

0.4--0.6

0.5--0.8

14

 

 

 

 

0.4--0.6

Aluminum

1

6.0--10

10--20

20--30

25--38

35--45

2

2.8--3.6

5.0--7.0

10--15

10--18

13--24

3

0.7--1.5

2.0--4.0

5.0--7.0

6.5--8.0

7.0--13

4

 

1.0--1.5

3.5--5.0

3.5--5.0

4.0--5.5

5

 

0.7--1.0

1.8--2.5

2.5--3.5

3.0--4.5

6

 

 

1.0--1.5

1.5--2.5

2.0--3.5

8

 

 

0.6--0.8

0.7--1.0

0.9--1.6

10

 

 

 

0.4--0.7

0.6--1.2

12

 

 

 

0.3-0.45

0.4--0.6

16

 

 

 

 

0.3--0.4

Brass

1

6.0--10

8.0--13

12--18

20--35

25--35

2

2.8--3.6

3.0--4.5

6.0--8.5

6.0--10

8.0--12

3

0.5--1.0

1.5--2.5

2.5--4.0

4.0--6.0

5.0--8.0

4

 

1.0--1.6

1.5--2.0

3.0-5.0

3.2--5.5

5

 

0.5--0.7

0.9--1.2

1.5--2.0

2.0--3.0

6

 

 

0.4--0.9

1.0--1.8

1.4--2.0

8

 

 

 

0.5--0.7

0.7--1.2

10

 

 

 

 

0.2--0.5
---
---