Recently , 5 sets of Knoppo co2 laser cutting engraving machine arrived to South Africa , because of good quality , we always get good comments from customer . CO2 laser cutting machines generally rely on laser power to drive the laser tube to emit light. It is transmitted to the laser head, and the focusing mirror installed on the laser head condenses the light into a point, and this point can reach a very high temperature, so that the material is instantly sublimated into gas, which is sucked away by the exhaust fan, so as to achieve the purpose of cutting ; The main gas filled in the laser tube used by the general laser cutting machine is CO2, so this laser tube becomes a CO2 laser tube, and the laser cutting machine using this laser tube is called a CO2 laser cutting machine.
co2 laser cutting engraving machine is mainly used for wood , acrylic , plexiglass , glass , mirror , leather , MDF , plywood and other nonmetal engraving , also can cut metal , wood , acrylic , MDF , cloth , plywood and plastic etc , power is from 80w to 600w , can cut different thickness . For example , 300w co2 laser cutting machine can cut max 3mm carbon steel , 2mm stainless steel , 20mm wood and 30mm acrylic etc , this machine can meet most application for advertising industry .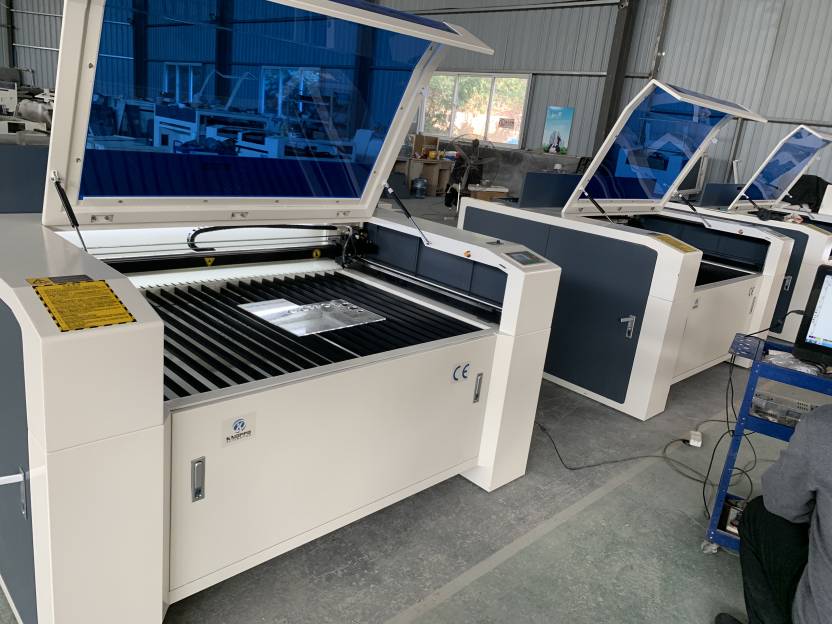 KNOPPO CO2 laser machine use good machine table , reci laser tube , ruida control system and S&A water chiller etc , good quality and 3 years warranty .
And our engineer is always keep 24 hours online everyday to provide best service to customer . Here is some comments from our Vietnamese customer ,
South Africa customer and Italy customer .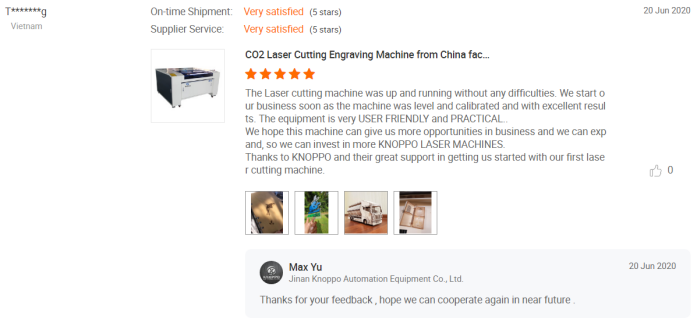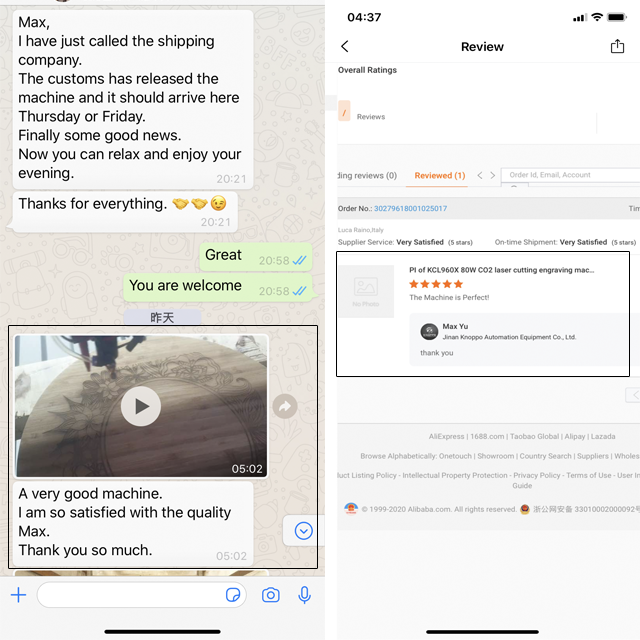 If you would like to know more information , please contact us directly . We are also looking a agent in local market , Hope we can work togeter and
win this laser machine market .
E-mail : max@knoppoauto.com
Whatsapp : +86 186 6371 7059
---
Post time: Nov-14-2021